Date: Inauguration of ISLE Student Chapter
AISSMS's Institute of Information Technology (IoIT), Deptt. of Electrical Engg.,Pune
Welcoming all Students, Faculty Members and Chief Guest by Shubham and Aaditi, the Saraswati Vandana was cited by Prerna Patil. Chief Guest Dr.Prakash Barjatia, Governing Body Member of Indian Society of Lighting Engineers (ISLE) was then felicitated by Prof.S.M.Chaudhari, HOD.

Inaugurating the Student Chapter of ISLE, Dr.Barjatia highlighted and emphasized the need of Lighting Professionals, specifically during the era of LED and Solar. He complimented IoIT for taking an initiative of starting Student Chapter of ISLE with 2 Faculty Members and 23 Student Members. He explained as to how Students and Institute can take the benefit of experience and expertise of ISLE Members, of course initiative has to be taken by them. After release of Technical News Letter, prizes for Academic Excellence, Co-curricular Activities and Extra Curricular Activities including Illumination Scheme Design, conducted by Prof.S.M.Chaudhari, were given away to SE,TE and BE Students of 2018-19 Batch. The event was attended by 210 students and was conducted by Ms.Sayali Ghodke and Tarun Kumar.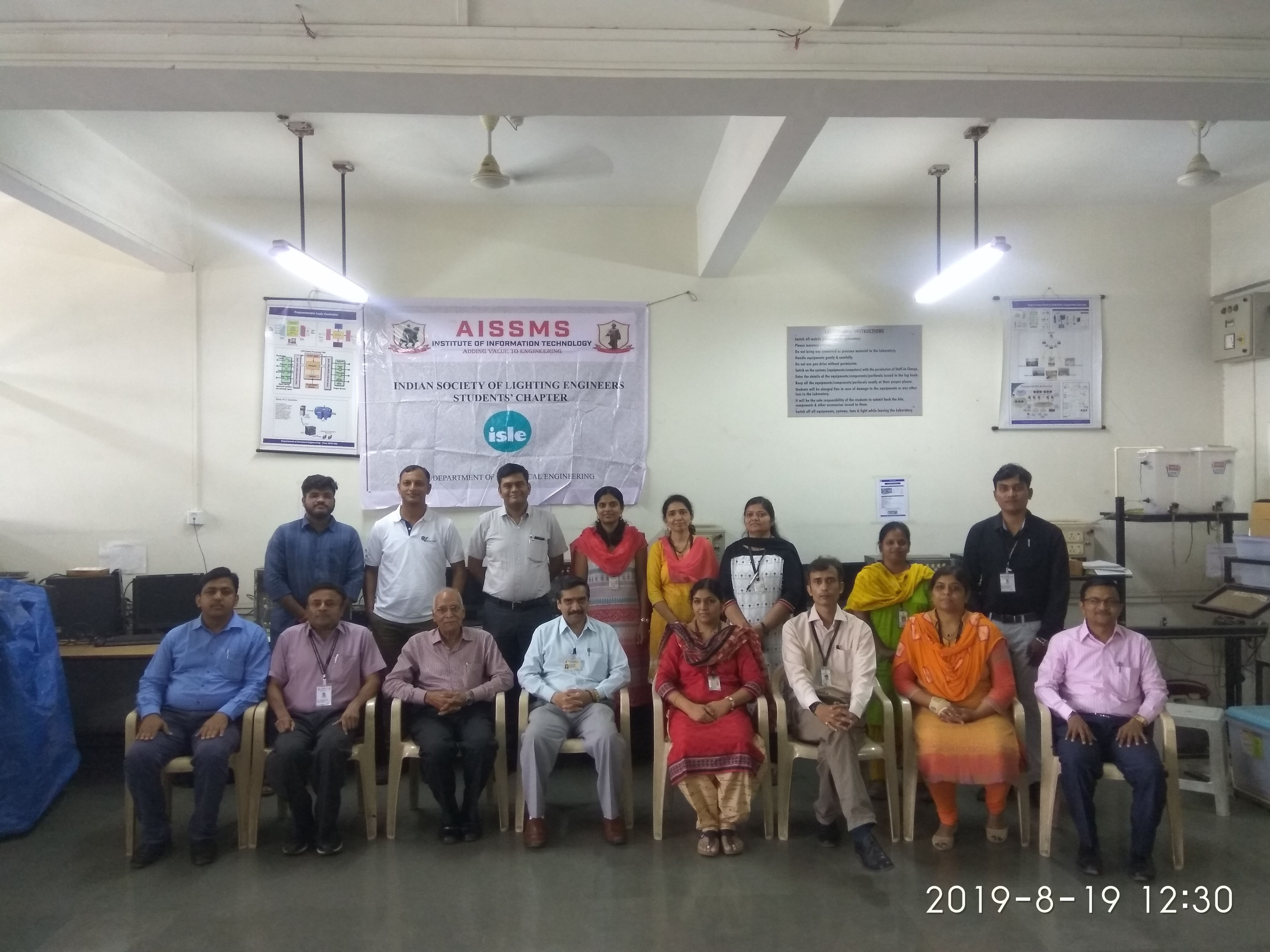 A Discussion Forum on Scope of Illumination Engineering was organised on 19Aug.,2019 at Electrical Engineering Department of AISSMS - IOIT, Pune. 14 Participants including Experts from Lighting Industry viz. Mr.Virendra Borade of Lightkrafts ; Mr. Sudhir Patil of Leap Infosys ; Mr. Prafulla Wadaskar of VADACTRO; Dr.Prakash Barjatia, Governing Body Member of ISLE ; Academicians from AISSMS - IOIT viz. Porf.(Dr.) Pradeep B. Mane, Principal ; Prof.(Mrs.) Dr. Ashpana Shiralkar, HOD-Electrical Engineering Deptt. ; Prof. Sandeep Chaudhari ; Prof. Vaishali Kuralkar ; Prof.(Mrs.) V.A Yawale ; Prof. Saba Shaikh and Student Representative Mr.Nikhil Chawhan.
Discussion started with the need of Lighting Education to develop Lighting Professionals, and also to up-date the knowledge being provided in Institutions / Colleges. For the purpose, even the present curriculum of University was also discussed and it is opined that it needs to be revised from time to time to expose students to the knowledge required by the Industry and Users. After deliberation on the subject, following decisions were taken –
1. To develop an interest in Illumination Engineering, an Orientation Session by Industry Person can be conducted where the students could be introduced on the potential as an Illumination Engineer.
2. To study present Curriculum / Syllabus of Savitribai Phule Pune University on elective subject of Illumination Engineering.
3. To bring awareness among students on the latest developments in Illumination Engineering, Seminars can be organised.
4. The students could be introduced to various Illumination Software with Hands-on-Experience.
5. The students could also be introduced to various luminaries and their accessories.
Concluding the Forum Meet, it was decided to organise 1-Day Institute-Industry Meet by the Institute with the support of ISLE and Industry Representatives.